All parents know that there is a time in children's development when they begin to reject new foods and tastes and become what is often called picky eaters. This usually results in parents getting worried and frustrated and children eating a limited variety of foods. Good news is that this is, in most cases, a passing phase, and it can be overcome by continuous, patient encouraging, and exposing children to foods they otherwise tend to reject.
However, there are cases when children, unfortunately, do not receive the necessary amount of vitamin C, when it is justified to add dietary supplements to a healthy diet after consulting a pediatrician.
Some of those cases include children:
with primary malnutrition (otherwise healthy children who do not consume sufficient amounts of nutrients)
with secondary malnutrition (children with chronic diseases with higher risk of developing nutrient deficiency in the body)
on restricted diets for health reasons
exposed to frequent physical stress (children who are extensively involved in sports)
included in larger groups in kindergarten, or school
There are several preparations intended for children in our product portfolio. Among them one is standing out – Eko C-Vit junior sugar coated tablets with vitamin C for children above 3 years of age. The composition is completely adapted to children's recommended daily needs, containing natural colors and natural orange flavor that kids love.
Eko C-Vit junior sugar coated tablets can be found in all well stocked pharmacies in Serbia.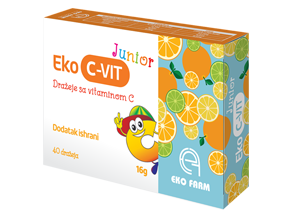 Eko C-Vit junior is a dietary supplement based on vitamin C, that is recommended for preschool, and school-age children. It contains the recommended vitamin C dose of 50 mg, which meets the children's daily needs for this vitamin. Tablets are coated with sugar, and 100% natural orange flavor, which makes them easily acceptable for the kids – even for those with the most demanding taste.