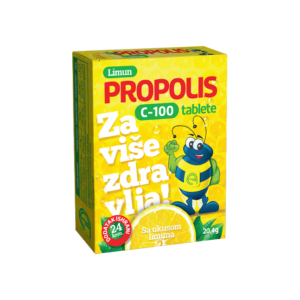 What is Propolis C-100 lemon?
Propolis C-100 lemon is a dietary supplement based on propolis extract of high biological value and vitamin C with new refreshing lemon flavor. They are carefully balanced in such a ratio, which strengthens the immune system, and body's resilience to colds and infections.
Why choose these active ingredients? Because bee propolis, thanks to its proven antimicrobial activity, protects our bodies from bacterial, viral, and fungal infections. In addition to this, propolis is a 100% natural mixture of resinous substances with valuable biological activity. Propolis C-100 lemon is a unique product because it contains 35mg of propolis extract collected in the territory of Homolje mountains, one of the most preserved landscapes of eastern Serbia.
Vitamin C achieves even stronger positive – synergistic effect on our immune system in combination with propolis extract.
Natural lemon flavor provides a refreshing taste of the tablets, blocking the bitter propolis taste.
When should we use Propolis C-100 lemon?
Propolis C-100 lemon should be used as a complement to a healthy diet, according to individual needs. It is especially recommended during change of seasons, when bacterial and viral infections are more common in population.
Propolis C-100 lemon tablets are recommended for use during upper respiratory tract infections caused by viruses or gram positive bacteria (Streptococcus sp., Staphylococcus sp.), such as inflammation of the throat, tonsils and vocal cords, during oral infections caused by the herpes virus, oral candidiasis, aphtha, and all conditions of weakened immune system.
To whom is Propolis C-100 lemon recommended?
Propolis C-100 lemon can be used by children older than 3 years of age, adults and the elderly. It is especially recommended for people prone to frequent infections of the upper respiratory tract, chronic patients and convalescents. Pregnant and lactating women should consult a physician before use. Propolis C-100 without sugar is suitable for diabetics, people on reduction diets, and children and adolescents during the permanent teeth growth phase.
How is Propolis C-100 lemon used?
Adults:  1 – 3 tablets a day.
Children over 3 years:  1- 2 tablets a day.
Tablets should be slowly dissolved in mouth.
After dissolving, food and beverages should not be consumed for at least half an hour.
Where is Propolis C-100 lemon available?
Propolis C-100 lemon tablets are available in all better supplied pharmacies in Serbia.
The package contains 24 tablets.
*Number and date of registration in the Ministry of Health database – 11169/2017 from  August 7, 2017.
| | | | | |
| --- | --- | --- | --- | --- |
| Active ingredients | 1 tablet/%RDA* | 2 tablets/%RDA* | 3 tablets/%RDA* | 100 g |
| Propolis extract 3.5 : 1 | 35 mg/** | 70 mg/** | 105 mg/** | 4,12 g |
| Vitamin C (L-ascorbic acid) | 100 mg/125 | 200 mg/250 | 300 mg/375 | 11,76 g |
*RDA- recommended daily intake for adults.
** RDA is not established.
| | | |
| --- | --- | --- |
| Nutritional values | 1 tablet | 100 g |
| energy value | 12,2 kJ (2,9kcal) | 1442,3 kJ (343,4kcal) |
| carbohydrates | 0,83 g | 98,34 g |
| proteins | 0,00 g | 0,01 g |
| fats | 0,01 g | 1,55 g |