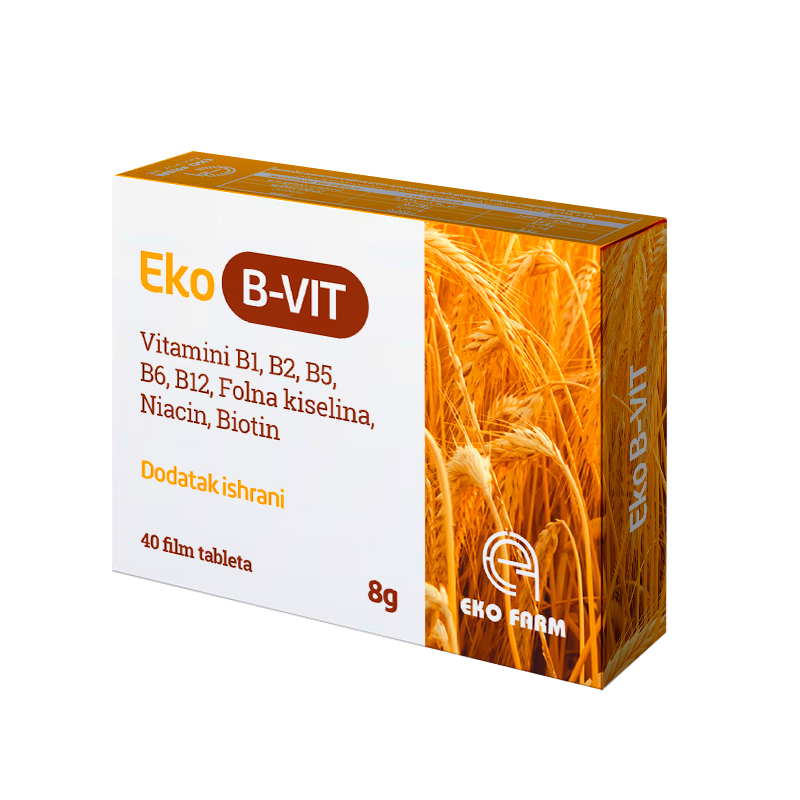 What is Eko B-Vit?
Eko B-Vit is a dietary supplement in the form of film coated tablets, that contain all eight essential B complex vitamins. You may wonder why all eight? Because, thanks to the synergistic effect, only in this exact composition these vitamins may achieve their full effect, which is participating in a number of metabolic processes, which helps create energy for the functioning of all tissues from ingested food.
Without sufficient levels of B vitamins, it would not be possible to perform a number of processes essential for our body, such as protein, fat, or sugar metabolism. Our body cannot store them, nor synthesize them, which makes them essential nutrients. This means that they we should constantly provide fresh supplies of B vitamins to our body through a well-balanced diet and dietary supplements, when necessary. We are all witnesses of a modern way of life, that imposes modern eating habits, which often includes skipping meals and uniform diet. This increases the risk of B vitamins deficiency even in healthy people. That is why it is recommended to use dietary supplements as concentrated sources of these vitamins, especially in vulnerable groups, such as children, the elderly, women of childbearing age, and chronic patients.
Therefore, Eko B-Vit film tablets have a particularly important role in preserving the functions of the:
nervous tissue
heart
muscles
gastrointestinal tract (GIT)
red blood cells
GIT cells
adrenal hormones and sex hormones
In addition to the above, regular intake of Eko B-Vit film coated tablets provides normal growth and development of the whole body, especially in the period of intensive growth in children and adolescents.
What is perhaps interesting for female population, Eko B-Vit maintains the integrity of the structure and function of the skin by improving its circulation, stimulating regeneration, and allowing normal functioning of the sebaceous glands. It also has positive effect on the formation and growth of hair and nails, which is why it is often recommended, especially in conditions of increased physiological hair loss, provoked by child birth, or the changing of the seasons.
Guided by the principle "less is more", we have created an ideal ratio of active substances in Eko B-Vit film tablets, in order to provide you the exact amount of B vitamins that fits your daily needs. Thanks to this ratio, you can achieve maximum efficacy of the product with lower doses, with makes it safer for use.
To whom is Eko B-Vit recommended?
The highest percentage of healthy adult population meets the daily needs for B vitamins by eating a well-balanced diet. However, certain groups of people, including children, adolescents and the elderly, often cannot consume sufficient amounts of these vitamins only from food. In children it is usually caused by poor appetite, and undiversified diet, while in the elderly population it is caused by a slower metabolism and malabsorption (decreased absorption of nutrients from the intestine). Therefore, as an additional source of B vitamins, dietary supplements are often recommended to these vulnerable groups.
Eko B-Vit film tablets are recommended in all situations when there is:
reduced intake of B vitamins (vegans, vegetarians, children and adults of poor appetite, people with impure and problematic skin)
increased need for B vitamins (children and adolescents in the phase of intensive growth and development, diabetics, professional athletes, people exposed to increased physical and mental stress, people with alcohol dependence, convalescents after recovering from infectious diseases, or surgical interventions, chronic patients)
insufficient / altered gastro-intestinal absorption (people over 65 years of age, people suffering from anemia due to a lack of vitamin B12)
How is Eko B-Vit used?
Adults: up to 3 tablets a day.
Schoolchildren: up to 2 tablets per day.
People with increased need for B vitamins should contact their health care provider for dosage recommendations.
Product is suitable for a gluten-free diet.
Eko B-Vit tablets are recommended depending on the individual needs under doctors' (or pharmacist) advice upon the necessary dose and duration of therapy. For healthy adult individuals dosing is done according to the Recommended Daily Allowance (RDA) values, while duration of treatment is a minimum of 1 to 3 months. In people with higher risk of B vitamin deficiency, specific recommendations are applied, only under medical supervision.
Where is Eko B-Vit available?
Eko B-Vit film coated tablets are available in all better supplied pharmacies in Serbia.
The package contains 40 film coated tablets.
Number and date of extended registration in the Ministry of Health database – 1643/2016 from October 21, 2016.
| | | | | |
| --- | --- | --- | --- | --- |
| Composition | 1 film tablet | 3 film tablets | %RDA* | 100 g |
| Vitamin B1 (Thiamine-hydrochloride) | 1,0 mg | 3,0 mg | 273 | 500 mg |
| Vitamin B2 (Sodium-riboflavin-5′-phosphate) | 1,14 mg | 3,42 mg | 244 | 570 mg |
| Vitamin B5 (Calcium-D-pantothenate) | 5,0 mg | 15,0 mg | 250 | 2500 mg |
| Vitamin B6 (Pyridoxine-hydrochloride) | 1,42 mg | 4,26 mg | 304 | 710 mg |
| Vitamin B12 (Cianocobalamine) | 1,3 µg | 3,9 µg | 156 | 650 µg |
| Folate (Pteroylmonoglutamic acid) | 130 µg | 390 µg | 195 | 65000 µg |
| Niacin (Nicotinamide) | 8,0 mg | 24,0 mg | 150 | 4000 mg |
| Biotin (D-biotin) | 50,0 µg | 150,0 µg | 300 | 25000 µg |
* RDA – recommended dietary allowance for adults
| | | |
| --- | --- | --- |
| Nutritional value | 3 film tablets | 100 g |
| energy value | 10,34 kJ (2,44 kcal) | 1723 kJ (406 kcal) |
| carbohydrates | 0,54 g | 90,4 g |
| proteins | 0,05 g | 7,5 g |
| fats | 0,01 g | 1,6 g |